Betty Gorham was born in 1931 and began juggling at age 13. By age 14, she was already juggling clubs and had been brought to the attention of jugglers through Roger Montandon's Jugglers' Bulletin. Starting in February of 1946, she worked as a correspondent for the Jugglers' Bulletin. Once the IJA was formed, Betty became the first person to join the brand new organization. After graduating from high school, Betty became a full-time juggler, performing in nightclubs, fairs, circuses and on TV. She performed with spinning balls, clubs, rings, devil stick, and tennis rackets. Betty attended many early IJA conventions and served as an officer. In 1961, she met Ken Willer, a hand balancer, and they were married the next year. Betty was made an Honorary Life Member of the IJA in 1996. Betty passed away in late 2016,
These are Betty Gorham's Harry Lind clubs. Donated by Betty Gorham Willer.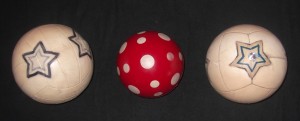 These are Betty Gorham's spinning balls. Donated by Betty Gorham Willer.
This is Betty Gorham's head pedestal. Donated by Betty Gorham Willer.
Below is a video from the 1950 IJA Convention that shows Betty juggling three clubs and doing ball spinning.